How's it Possible to Create Your Best Baby with "Awakening Fertility's" Epigenetics Protocol?
I'm so excited to be sharing this information with people and watching how women and couples on my Epigenetics Protocol (experienced through private on-line sessions; on the phone, or; in my office in Harley Street, London) defy their doctors, friends and family with astonishing changes to their body for the better – all in the name of achieving faster fertility success.
What is Epigenetics
I have chosen to define epigenetics according to EPIGENETICS: THE DEATH OF GENETIC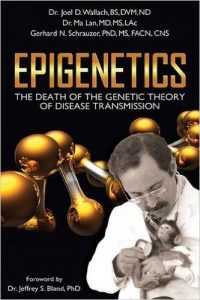 THEORY OF DISEASE TRANSMISSION written by Joel D. Wallasch, BS, DVM, ND; Ma Lan, MD, MS, Lac; and Gerhard N. Schrauzer, PhD, MS, FACN, CNS:
"Epigenetics is an emerging field of science that studies alterations in gene expression caused by factors other than changes in the DNA sequence."
"Epigenetics dispels misinformation from the dogma propagated by our current medical institutions and explains why many established doctors are resistant to change."
"Epigenetics is of vital importance to anyone who wants real knowledge about how the human body functions, and how to apply that knowledge to our nutritional needs."

"Epigenetics lays the foundation to healthier, happier lives, for ourselves and for generations to come."
How Does Epigenetics Enhance Fertility and Create Better Babies?
l teach my clients how they can use the latest research given to us from the field of epigenetics to enhance their fertility and create better babies.
You see, you can improve your internal environment (your physiological response to modern living) by learning specific tools and techniques to keep toxicity at bay (physically, mentally and emotionally) coupled with a few lifestyle tweaks to:
Keep your fertility "turned on";
Your hormones balanced;
The sperm/egg (follicle) health improved;
The womb warm, soft and open to the changes that holding a pregnancy through to full term requires;
Feel "full of life" whilst on your fertility journey. Injecting "joy" into your life is one of the biggest catalysts to fertility, pregnancy and parenthood success
…But you can't fake it and this is why this epigenetics protocol works.
3 Options for You to Know More and Change Your Chances
Come along to my Fertility Bootcamp

Sign up to my Online Fertile Lifestyle Course: 90 Days to Faster Fertility Success

21st November 2016 Course.
January 2017 Course.
Want the discounted rate? Read more here…

Sign up to a personalised weekly session with me for 3 – 6 months including pregnancy support strategies

My 80% success rates since 2007 have been based on the Silver and Gold Natural Fertile Lifestyle Programmes. Read more here…

About the author:
Fiona Boulton is a Fertility Specialist
(An expert in her field since 2007) and leader in Fertility Mind Mastery, Fertility Meditation, Fertility Yoga and Fertility Coaching –
helping people take back control of their fertility, faster.
Fiona is the founder of Awakening Fertility – Harley Street (Harley Street Fertility Clinic), London; Concept Fertility Putney; Chichester, West Sussex and Perth, Australia
Huffington Post Fertility Writer
Fertility Coach
Fertility Support Group Co-ordinator for Harley Street Fertility Clinic and Infertility Network UK
Nutrition Counsellor
Public Speaker
Author
Blogger
QiYoga® Founder
Fertility Yoga Teacher Trainer (RYS 200)
Fertile Lifestyle Motivator
Fertility Support Group Facilitator
Fertility Practitioner Training Co-ordinator
Through Fiona's "transformation guaranteed" Fertile Lifestyle courses, Fiona helps navigate major transitions to detox your mind and body to help you effectively 'think yourself fertile'; to change the map your mind has of your body and therefore change your physiology by clearing mental and emotional blockages to having your baby. Fiona's work focuses on you taking back control by changing the internal and external environment of your cells so you can improve chances of fertility success.

Book your fertility consultation from the comfort of your home or come to the Harley Street Fertility Clinic for a transformative session with Awakening Fertility founder Fiona Boulton, here.
Leave your questions and comments in the box below!