10 Tips for a Fertility Detox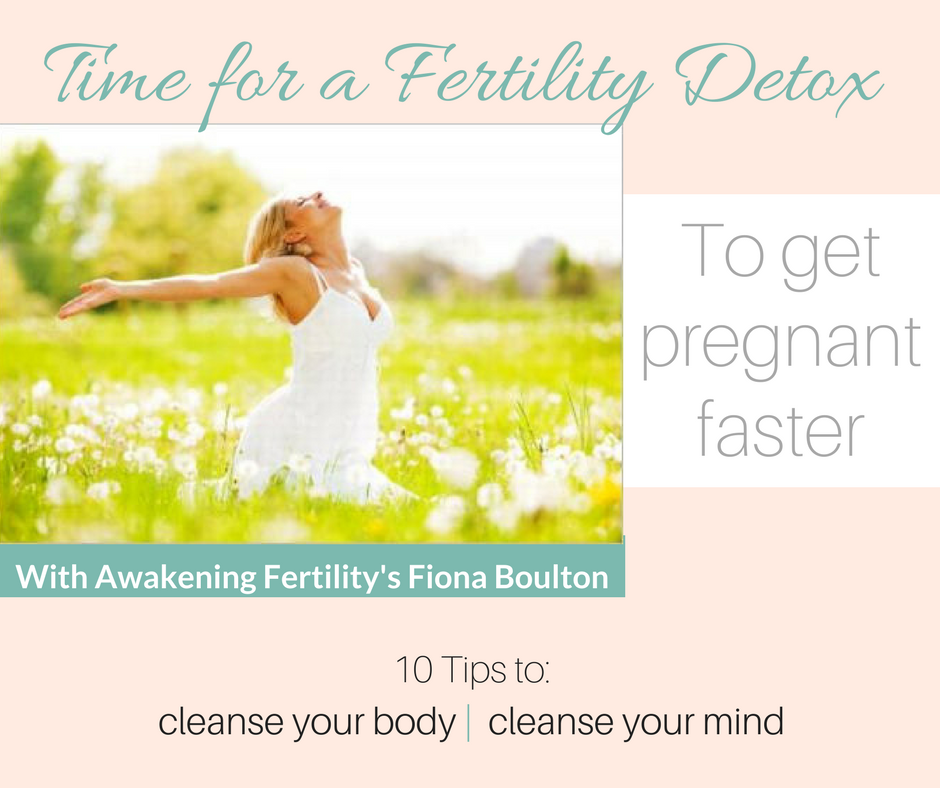 I have created this short video to help you detoxify your body and your mind to help you get pregnant faster.
I explain why you would benefit from a fertility detox when you are trying to conceive and how it can increase your chances of having a healthier pregnancy and baby.
With my comprehensive list of 10 easy to follow tips, you will be able to transform your fertility in no time!
Listen to my 10 Tips Fertility Detox Talk
You will learn about:
your levels of toxic exposure
the organs that need detoxing and why
the best supplements to detox your body
the breathing exercises used to detoxify toxins and stress from your body and mind
the best strategies to clear the clutter in your mind (to stop feeling so drained, tired or stressed)
the best exercises to help detox your body and mind
lymphatic drainage (through massage and dry body brushing)
ionic foot spa treatments
foods that boost fertility and detoxify your body
what detox juices are good to consume when trying to conceive
Feel it's time for a fertility detox to boost your fertility?
Come along to our next fertility detox retreat to enjoy all this and more!
Upcoming UK Fertility Retreat Weekend Dates
14th – 15th April 2018
5th – 6th May 2018
Click here for full details about joining us!
If you have any questions or comments, please leave them below, I'd love to help you have your baby soon (just as I have helped 80% of all my clients have happy, healthy babies since 2007).
Feel Happy Trying to Conceive

Know You're on the Right Path to Fertility Success
If you want to begin to feel happy on your fertility journey whilst trying to conceive and if you want to know you are on the right path to have your baby then I can help. Book a private consultation with me today.

About the author:
Fiona Boulton is a world-renowned Fertility Healer. (An expert in her field since 2007) specialising in:
Fertility Mind Mastery, Fertility Meditation, Fertility Yoga, Fertility Qi Gong and Fertility Coaching –
helping you take back control of your fertility, faster.
Through Fiona's "transformation guaranteed" Fertile Lifestyle courses, Fiona helps navigate major transitions to detox your mind and body to help you effectively 'think yourself fertile'; to change the map your mind has of your body and therefore change your physiology by clearing mental and emotional blockages to having your baby. Fiona's work focuses on you taking back control by changing the internal and external environment of your cells so you can improve chances of fertility success.
Fiona, founder of Awakening Fertility is based:
WORLD-WIDE
Online and available to speak to you from anywhere in the world
LONDON FERTILITY CLINICS
Harley Street (Harley Street Fertility Clinic)
Concept Fertility Clinic Putney
Samsara Mind & Body SW18
WEST SUSSEX FERTILITY CLINIC
United Kingdom, Chichester
AUSTRALIA FERTILITY CLINICS
Western Australia, Perth

Book your fertility consultation from the comfort of your home or experience face-to-face (in person) transformative session with Awakening Fertility founder Fiona Boulton, here.
Leave your questions and comments in the box below!