Did you know you can activate the power of your womb?
Yes, as strange as this concept may seem, you can activate the power of your womb. By doing so, you can actually attract your baby's soul to you through your magnetic sexuality!
You can also overcome obstacles, ignite sexual intimacy (to new heights) and deepen the bonds of love for yourself and others.
Before you think with is a bit too 'woo-woo' hear me out…
It is well documented that sexual energy is the most potent energy for manifestation. The good news is you are always manifesting… Thing is though, because you live the majority of your life in auto-pilot from your mid-30's onwards, it means you can end up manifesting whatever you think and feel (including your greatest fears!)
For this reason, it is important to master your mind (which is why I offer specific Fertility Mind Mastery techniques to all my clients).
I also help women activate their wombs with a specific workshop that you too can experience at one of my upcoming Spring retreats:
The retreat offers massages, fertility detox treatments, fertility yoga, fertility meditations, fertility mind mastery and more to ensure deep nurturing and transformation is experienced by everyone attending.
If you can't make the retreat but would love a copy of the audio recording, click here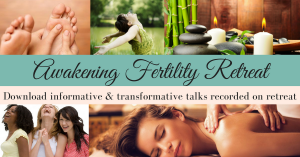 This Womb Activation workshop is ideal for you if you:

Don't want to feel hopeless

Don't want to feel your fertility issues are unfair

Don't want to have issues or a closed-minded approach to sex

Want to create self-love

Want new ways to nurture yourself

Want to release from self-sabotage or victimhood (eg: feeling "why me?"; "I deserve to…"; "why can't I…?")

Want to overcome your patterns of control

Want to open to deep pleasure (and make love with life!)

Want to activate 'fertility abundance'

Want to activate the power to follow your heart in every moment

Want to ignite sexual intimacy

Want to deepen bonds of love

Want to feel empowered as you overcome obstacles to getting/staying pregnant

Want to balance your hormones

Want to minimise the chances of miscarriage

Want to become more feminine
Time to create a fertile womb
How to tell if your womb is fertile
There are three aspects that determine how fertile your womb is.
Firstly, if you are maintaining a genuine positive disposition (from the depth of your
heart) whilst dealing with the lows and blows that can come with trying for a baby then you are half way there! You see, this is due to the fact your body feels how you feel (your cells, your tissues, your baby in utero; all aspects of you feel the same emotions you feel)…
It is therefore imperative that you "lift your spirits" when trying to conceive and when you are pregnant.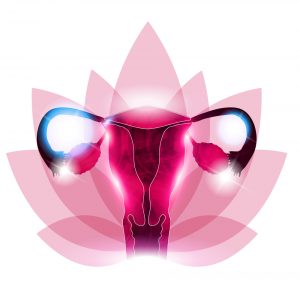 Secondly, when you get a scan you can have the thickness of your womb lining checked to see that it is in the optimum state: optimal lining thickness is between 10 – 13mm at around the time of embryo implantation (around day 21 of most people's cycle). The role your uterine lining plays is going to determine the success of your pregnancy so it is essential your womb lining is juicy, elastic, warm and the cells are vibrating at their optimum level of frequency and vitality.
Thirdly, if you keep a check on your stress levels and actively (mindfully and consciously) take action to turn your stress off and turn fertility on then you are well on-track to a fertile womb. You can turn fertility on by stimulating the parasympathetic nervous system more often than your "fight/flight" parasympathetic nervous system.
This can be achieved if you activate cellular health through fertility yoga + fertility meditations + fertility qigong + quality sleep + adequate nutrition to fuel your body with the extra energy it needs to get pregnant and stay pregnant. These factors need to be part of your daily routine if you are serious about faster fertility success.
Get pregnant faster with an Awakening Fertility womb detox
You will be guided with exercises for your body and your mind.
You will journey deep into your passionate 'core of your womb' which is connected to the Web of Life and the Universal Womb which birthed all matter.
You will activate your most powerful essence of being a woman. This will facilitate you to open up and be receptive of your deepest wisdom, freedom and power to give and receive love.
By activating your sexual, magnetic and wild inner energy it will help you transcend boundaries, giving you the tools to overcome any obstacle. It will radically transform you, breaking you through all your fears and allowing your Life-Force energy to flow.
Activating your womb power
I find one of the biggest blocks for my clients trying to have a baby is their lack of self-love. You see, if you don't love yourself enough you can not love your baby to the extent that it needs to thrive.
We have all heard of the WWII tests on babies, that although you can feed a baby and shelter a baby, they will not survive without physical touch. Furthermore, a baby will not thrive without love.
Taking the time to nurture yourself (by coming along to healing retreats; by detoxing yourself of things that are bogging you down physically and mentally and by learning the art of self-love) you will develop much greater personal power and boundaries that help to activate your womb power.
If you have any questions or comments, please leave them below, I'd love to help you have your baby soon (just as I have helped 80% of all my clients have happy, healthy babies since 2007).

About the author:
Fiona Boulton is a Fertility Specialist
(An expert in her field since 2007) and leader in Fertility Mind Mastery, Fertility Meditation, Fertility Yoga and Fertility Coaching –
Helping people take back control of their fertility, faster
Fiona is the founder of Awakening Fertility – Harley Street (Harley Street Fertility Clinic), London; Concept Fertility Putney; Chichester, West Sussex and Perth, Australia
Huffington Post Fertility Writer
Fertility Coach
Fertility Support Group Co-ordinator for Harley Street Fertility Clinic and Infertility Network UK
Nutrition Counsellor
Public Speaker
Author
Blogger
QiYoga® Founder
Fertility Yoga Teacher Trainer (RYS 200)
Fertile Lifestyle Motivator
Fertility Support Group Facilitator
Fertility Practitioner Training Co-ordinator
Through Fiona's "transformation guaranteed" Fertile Lifestyle courses, Fiona helps navigate major transitions to detox your mind and body to help you effectively 'think yourself fertile'; to change the map your mind has of your body and therefore change your physiology by clearing mental and emotional blockages to having your baby. Fiona's work focuses on you taking back control by changing the internal and external environment of your cells so you can improve chances of fertility success.

Book your fertility consultation from the comfort of your home or come to the Harley Street Fertility Clinic for a transformative session with Awakening Fertility founder Fiona Boulton, here.
Leave your questions and comments in the box below!