Lately I've been receiving a lot of requests from my beautiful Fertile Friends for ovulation support. The most common question being, "what more can I do to support ovulation?"
My love-one thing you can do to support ovulation is to do less. By doing less, I mean taking time to go within. One of the best ways to do that is with a potent and powerful healing meditation.
Meditations allow you to take back control of your life. They aid in managing stress and anxiety around getting and staying pregnant, providing mental clarity and balancing your emotions-all of which are crucial for maintaining a healthy fertility journey.
Click on the video below to access a beautiful, healing, ovulation promoting meditation for you to enjoy.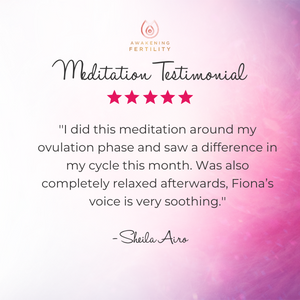 In this healing meditation, I help you to allow your pituitary (master) gland to begin to speak harmoniously with your ovaries, allowing you to gracefully and effortlessly activate ovulation.
Fiona Boulton has been a Fertility Expert since 2007. Since then, Fiona has helped thousands of women to have their happy healthy babies following her 6-pillar epigenetic protocol, the Fertile Lifestyle Course.
If you would like to receive personalised support to help you achieve faster fertility success, apply for a private consultation with Fiona or her team today: http://fertilelifestyleconsult.com/