Fertility food tips! GOOD fertility foods and what to AVOID
For many of us the thought of going on a fertility diet seems boring and restrictive. However, this is not the case.
A proper fertility diet (that sees you achieving faster fertility success) is one that embraces an abundance of tasty, enjoyable nutrition. You are best to eat with the seasons and support your food choices with a balanced Yin-Yang diet.
This means, when it is cold, have warming yang foods and when it is hot have cooling yin foods.
Confused?
Don't be. 
I have taken all the confusion out of living a fertile lifestyle with the world famous online fertile lifestyle course and my Eating with the Seasons recipe books.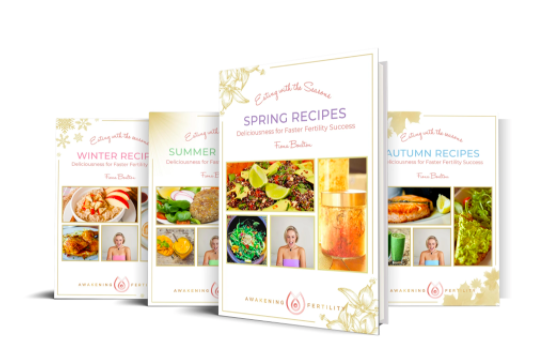 Watch this video below to get an overview of ideal fertility food tips!
Did you know that using a Brita filter + boiling your water is not enough?
That's right. It does not do enough to clear out the harmful impurities that can damage egg health and cause miscarriages?
Read more here.
Let's get interactive!
How many of these foods are fertility friendly? Leave your answer in the comment box and winners receive a prize!! [To make things easier, please consider ALL are organic. As you know from past posts, some of these foods in non-organic form is detrimental for your fertility]
Almond milk (without E-numbers, emulsifiers or carrageenan)
Apples
Apricots
Asparagus
Aubergine
Avocado
Beef
Beetroot
Berries: Strawberry
Blackberry
Blueberry
Broccoli
Brussels sprouts
Butter- (e.g Lurpak)
Butternut squash
Cabbage
Carrot
Celery
Cheese: hard cheese (e.g cheddar)
Chick peas
Chicken sausages
Coconut milk
Coleslaw
Corned beef
Courgette/Zucchini
Cucumber
Capsicum/Peppers (e.g red, yellow, green)
Curd cheese, Cottage cheese
Fish: salmon
Fruits
Garden peas
Garlic
Grapefruit
Halloumi
Honey
Hummus
Ice cream
Kale
Kefir
Lamb
Lemon
Lettuce
Meat: chicken
Melon
Mushrooms
Nectarines
Nutella
Onion
Orange, Satsuma, Easy Peeler
Parsnip
Peanut butter, normal or sugar-free
Pear
Pineapple
Plant based dairy-free butter
Plum
Popcorn
Pork, ham
Potato
Raspberry
Rice cakes
Runner beans
Organic Food List Part 2 (with answers)
Bread – Rye sourdough bread = only in small quantities
Bread – Gluten Free = only in small quantities (on special occasions, once a week)
Bread – Spelt = only in small quantities
Crackers (Ryvita- rye, seeds, multigrain, sesame) = only in small quantities (on special occasions, once a week)
Crisp bread crackers – Buckwheat = fine to have regularly
Tortilla wraps – Gluten free = only in small quantities (on special occasions, once a week)
Recommended Reading
The Acid Alkaline Diet and Fertility – Read it here 
How to Cleanse for Fertility – Read it here
The Dirty Dozen Fruits and Vegetables to Avoid – Read here
Superfoods for Fertility – How Superfoods Benefit Fertility – Read here
Does Tap Water Harm Babies? – Read Daily Mail article here
About the author:
Fiona Boulton is a world-renowned Fertility Healer and Fertility Activator. Fiona has been recognised as a fertility expert since 2007 helping women and couples to restore their fertility by helping to improve the cellular environment with her epigenetic protocol. Fiona specialises in combining science and spirituality through:
Personalised Fertility Activation Techniques, Fertility Mind Mastery, Fertility Meditation, Fertility Yoga, Fertility Qi Gong and Fertility Coaching –
Helping you take back control of your fertility, faster.
Through Fiona Boulton's "transformation guaranteed" Fertile Lifestyle courses, Fiona helps navigate major transitions to detox your mind and body to help you effectively 'think yourself fertile'; to change the map your mind has of your body and therefore change your physiology by clearing mental and emotional blockages to having your baby. Fiona's work focuses on you taking back control by changing the internal and external environment of your cells so you can improve chances of fertility success.
WORLD-WIDE
Online and available to speak to you from anywhere in the world. Book your complimentary 60 minute consultation with Fiona Boulton when you sign up to the Awakening Fertility newsletter, here.
LONDON FERTILITY CLINICS
134 Harley Street (Harley Street Fertility Clinic)
WEST SUSSEX FERTILITY CLINIC
United Kingdom, Chichester, PO19 8FY
AUSTRALIA FERTILITY CLINICS
Western Australia, Perth

Book your fertility consultation from the comfort of your home or experience face-to-face (in person) transformative sessions with Awakening Fertility founder Fiona Boulton, here.
Leave your questions and comments in the box below!