How to increase your fertile window, improve egg quality and reserve (AMH)

Back in 2014 The Huffington Post published an article titled: We Can Grow New Eggs, Ladies
In this article the author, journalist and integrated health consultant made various claims such as
"EVERY FEMALE CAN GROW NEW EGGS NO MATTER HOW OLD SHE IS."
"WE DON'T RUN OUT OF EGGS."
You can read this article in full, here.
From my time as an expert in the field of fertility (since 2007) I have seen all my client's AMH levels increase so I believe such statements to be 100% correct.
This is why women who do my Online Fertile Lifestyle Course actually change their 

AMH

 readings from "too low for a clinic to work with" and "non-existent" to then go on to actually having happy, healthy babies.
Read some case studies of AMH improving, here.

Another client of mine, in her early 40's contacted me January 2019 with the fantastic news that her AMH levels were that of someone in their 20's

How did these women change their chromosomal health and AMH levels?
They changed their cellular environment. You can do this too. You just need to put your cells in an environment where they can thrive.
This is why, if you are serious about having a baby I strongly urge you to do my
Online Fertile Lifestyle Course
. It helps so many women around the world to improve their chromosomal health because it works on epigenetics.
Epigenetics helps your body to turn on the best genes and turn off ones that carry disease.
By working on this level, the course takes into consideration your mind-set, emotions and stress management which also effect your follicle health. You can be taking the best supplements but if you are feeling fed up, frustrated, low etc. then it undoes the effects of good nutrition by creating an acidic environment.
Your cells feel what you feel. They are directly influenced by your mood, your food, your toxic exposure (which can mutate genes), your metabolism (which determines the rate of cellular repair and regeneration). So, it makes sense to focus on the cellular environment via the Awakening Fertility epigenetic protocol within the online course.
Moreover, this 
Online Fertile Lifestyle Course
 will help you manage the 'not-so-upbeat' emotions. Did you know your raised vibration will keep your body disease-free? The course helps you to train your mind so you genuinely feel amazing.
See below for more feedback I have been given by happy clients: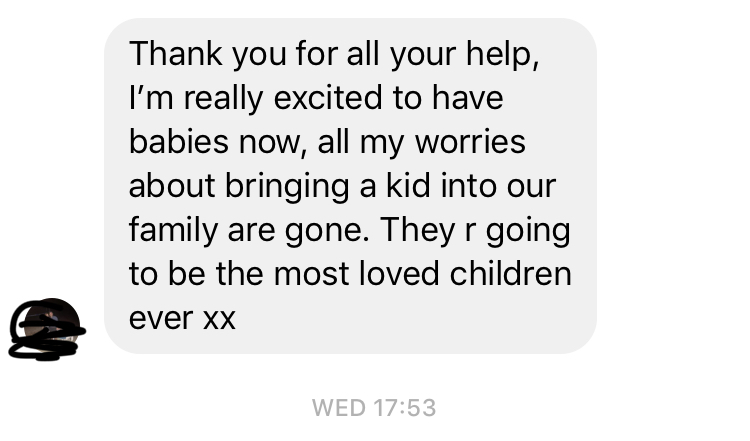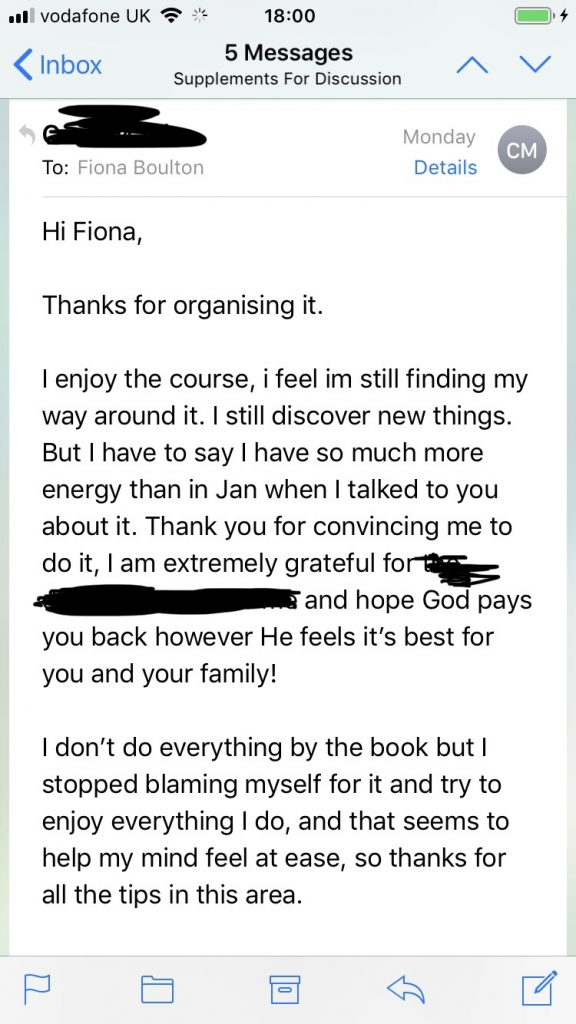 There is a lot of science behind the program as well as hundreds of meditations, fertility fitness videos, Mind Mastery sessions (and more, all suited to your personality and mood).
Best of all, 80% of all clients who do this course not only feel fantastic but also end up giving birth to happy, healthy babies.
You can read about the course 
here
.
You can see what's included in the course and how to use it, 
here
.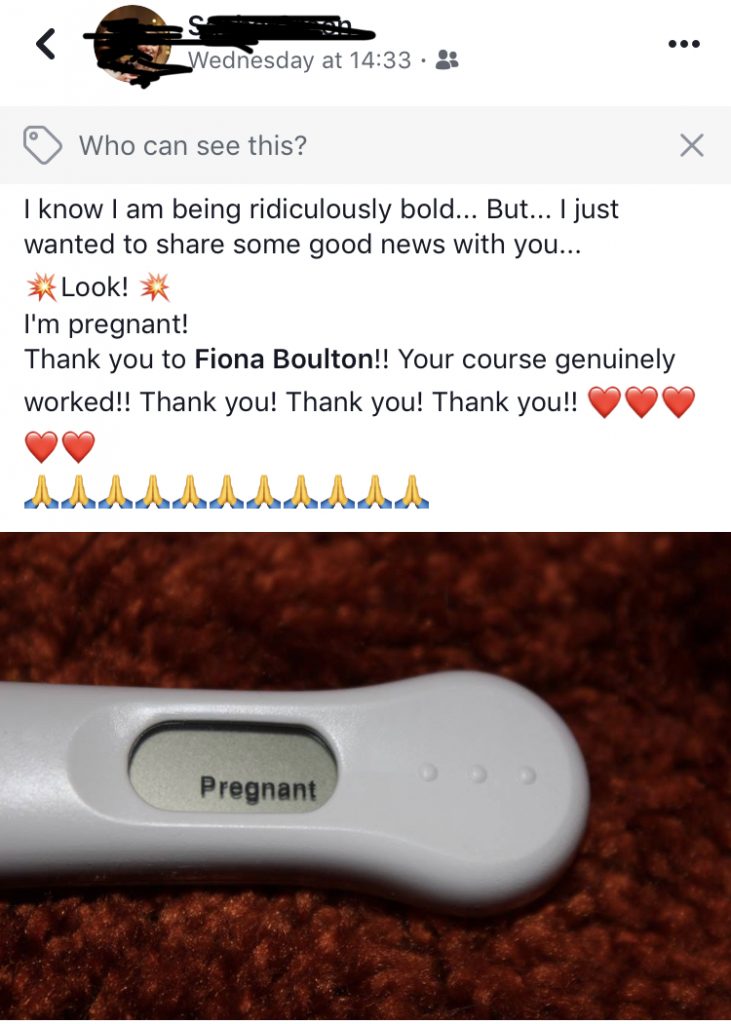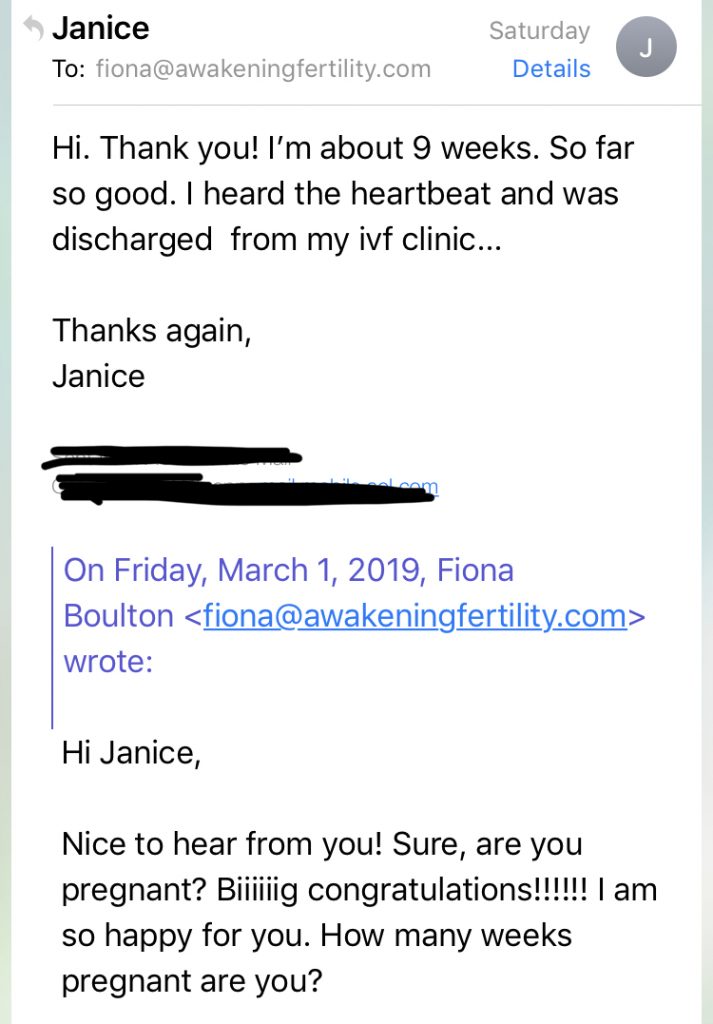 Ready to Feel Happy Trying to Conceive?

Know You're on the Right Path to Fertility Success
If you want to begin to feel happy on your fertility journey whilst trying to conceive and if you want to know you are on the right path to have your baby then I can help. Book a private consultation with me today.

About the author:
Fiona Boulton is a world-renowned Fertility Healer and Fertility Activator. Fiona has been recognised as a fertility expert since 2007 helping women and couples to restore their fertility by helping to improve the cellular environment with her epigenetic protocol. Fiona specialises in combining science and spirituality through:
Personalised Fertility Activation Techniques, Fertility Mind Mastery, Fertility Meditation, Fertility Yoga, Fertility Qi Gong and Fertility Coaching –
Helping you take back control of your fertility, faster.
Through Fiona's "transformation guaranteed" Fertile Lifestyle courses, Fiona helps navigate major transitions to detox your mind and body to help you effectively 'think yourself fertile'; to change the map your mind has of your body and therefore change your physiology by clearing mental and emotional blockages to having your baby. Fiona's work focuses on you taking back control by changing the internal and external environment of your cells so you can improve chances of fertility success.
Fiona, founder of Awakening Fertility is based:
WORLD-WIDE
Online and available to speak to you from anywhere in the world
LONDON FERTILITY CLINICS
Harley Street (Harley Street Fertility Clinic)
WEST SUSSEX FERTILITY CLINIC
United Kingdom, Chichester
AUSTRALIA FERTILITY CLINICS
Western Australia, Perth

Book your fertility consultation from the comfort of your home or experience face-to-face (in person) transformative sessions with Awakening Fertility founder Fiona Boulton, here.
If you would like to apply for a complimentary online consultation, click here.
Leave your questions and comments in the box below!