*WARNING!*
THIS Qi ENERGY HEALING MEDITATION IS POWERFUL
THIS IS AN ADVANCED MEDITATION PRACTICE THAT WILL HAVE INSTANT HEALING, DETOXING AND RE-BALANCING EFFECTS ON YOUR BODY.
I have created this meditation to help you feel refreshed, renewed and rebalanced by dissolving your fears, worries and anxieties to help you feel back in control of your fertility journey.
This Qi Energy Healing Meditation is a gift from me to all my readers, followers and supporters. Since 2007 I have established a reputation as a world famous Fertility Healer and all my clients attribute their fertility success to my healing meditations. I create individual meditations just for my clients (and occasionally for the general public, just like this free one).
I have an 80% success rate (I know, that is one of the highest success rates in the world) but that is because I empower my clients to take back control of their fertility and I teach them the secrets to fertility success that doctors and IVF clinics are not sharing.
This Free Fertility Meditation is for You if:
You want to experience a Qi Energy Healing Meditation
You want to feel the deep transformation that a meditation for fertility can offer
You are wanting a protection meditation to help you feel more protected on your fertility journey
You are wanting meditation to help you become a Mum
You are wanting some assistance to help you ground (to feel a deeper sense of security)
You are wanting to clear and cleanse yourself fertile
How This Fertility Meditation Works
STEP 1 –
Start by sitting comfortably with your back and neck supported (on a meditation chair, cushion or sofa).
STEP 2 –
Please get comfortable and follow my voice as I guide you into a state of deep, transformational healing.
Create a sacred time to re-kindle your ability to procreate, to fulfil your birth-rite to be a mother… And remember, it is now time for you to enjoy your fertility journey.
This fertility meditation is an advanced practice… So if you find the transformation too quick, please listen to one of my beginner level fertility meditations.
Within 30 minutes you will activate deep healing and rejuvenation as you restore balance and harmony to your body, mind and soul. All in all this meditation can help you to get pregnant and stay pregnant.
This fertility meditation will help you ignite your femininity, your grace and your abundance by dissolving negativity, doubt, anxiety and energy drains.
PLEASE NOTE:
If you sit up to listen you will deepen the experience (this will keep you in a meditative state).
The best time to do this meditation is in the morning when you wake up or just before you go to sleep at night.
Meditation to Become a Mum. Ground, Protect & Cleanse Yourself Fertile
Want to Join Our Regular Online Fertility Meditations?
Click here for full details (if you miss the live recording you will still get it emailed to you). Fertility Meditations is the best Fertility Medication. Fact.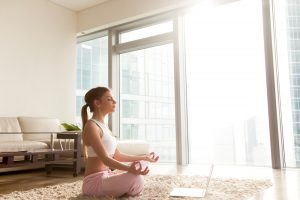 Want to Feel Happy Trying to Conceive and Become Baby Ready Now?

Know You're on the Right Path to Fertility Success
If you want to begin to feel happy on your fertility journey whilst trying to conceive and if you want to know you are on the right path to have your baby then I can help. Book a private consultation with me today.
 

About the author:
Fiona Boulton is a world-renowned Fertility Activator and Healer. (An expert in her field since 2007) helping women like you to activate their fertility.
This revolutionary process is taking the fertility world by storm because it genuinely works. Fiona can help you to clear blockages (physical, mental or emotional) that are preventing you from getting pregnant and staying pregnant. Fiona uses the science of epigenetics to improve the environment of your cells to help you activate deep healing and rebalancing to re-awaken your fertility.
Fiona has created a clear, step-by-step "do it yourself" Fertile Lifestyle Course that you can do from the comfort of your home to help you enjoy your fertility journey and go onto having a happy, healthy baby much sooner than you think.
Fiona is passionate about helping you take back control of your fertility, fast.
Through Fiona's "transformation guaranteed" Fertile Lifestyle course, Fiona helps navigate major transitions to detox your mind and body to help you effectively 'think yourself fertile'; to change the map your mind has of your body and therefore change your physiology by clearing mental and emotional blockages to having your baby. Fiona's work is focused on you taking back control by changing the internal and external environment of your cells so you can improve follicle health, your womb health and creates an environment for your embryo to thrive. 
Fiona, founder of Awakening Fertility is based:
WORLD-WIDE
Online and available to speak to you from anywhere in the world
LONDON FERTILITY CLINICS
Harley Street (Harley Street Fertility Clinic) W1G 7JY
Putney, SW18
WEST SUSSEX FERTILITY CLINIC
United Kingdom, Chichester, PO18
AUSTRALIA FERTILITY CLINICS
Western Australia, Perth (Subiaco)

Book your fertility consultation from the comfort of your home or experience face-to-face (in person) transformative session with Awakening Fertility founder Fiona Boulton, here.
Leave your questions and comments in the box below!