Trying to Conceive Motivational Morning Speech
(by Fiona Boulton)
The way to improve your mood is via your heart and your head
Are you ready to feel good on your fertility journey?
Are you ready to take back control and feel energised, refreshed, positive, hopeful and leave the heart-ache of the disappointing past behind you?
Read to optimise your mood?
When you change your brain chemistry and release 'feel good' hormones it can help to optimise faster fertility success.
We can only feel one emotion at one time so if you can master your mind and master your emotions you can master your physiology (and enhance your chances of conception and holding your pregnancy through to full term).
Your brain is like a sponge in the first 20 minutes
When you wake the first 20 minutes is the best time to help re-programme your mind and turn your mood and day into something positive to help you on your fertility journey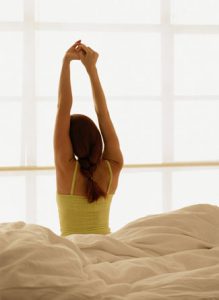 Fertility Mind Mastery
Download this audio for a 5 minute motivational speech to help you if you are trying to conceive.
Think Yourself Fertile
This fertility mind mastery audio designed to help you "think yourself fertile" is one of the techniques comprising of the 6 pillars of my epigenetics protocol (as illustrated below) as offered in my 90 Day Fast Track to Fertility Online Fertile Lifestyle Course.
Was the audio helpful?


About the author:
Fiona Boulton is a world-renowned Fertility Activator and Fertility Healer. (A fertility expert since 2007) specialising in:
Fertility Mind Mastery, Fertility Meditation, Fertility Yoga, Fertility Qi Gong and Fertility Coaching –
Helping you take back control of your fertility, faster.
Fiona is the founder of Awakening Fertility – Harley Street (Harley Street Fertility Clinic), London; Concept Fertility Putney; Chichester, West Sussex and Perth, Australia
Huffington Post Fertility Writer
Fertility Coach
Fertility Support Group Co-ordinator for Harley Street Fertility Clinic and Infertility Network UK
Nutrition Counsellor
Public Speaker
Author
Blogger
QiYoga® Founder
Fertility Yoga Teacher Trainer (RYS 200)
Fertile Lifestyle Motivator
Fertility Support Group Facilitator
Fertility Practitioner Training Co-ordinator
Through Fiona's "transformation guaranteed" Fertile Lifestyle courses, Fiona helps navigate major transitions to detox your mind and body to help you effectively 'think yourself fertile'; to change the map your mind has of your body and therefore change your physiology by clearing mental and emotional blockages to having your baby. Fiona's work focuses on you taking back control by changing the internal and external environment of your cells so you can improve chances of fertility success.

Book your fertility consultation from the comfort of your home or come to the Harley Street Fertility Clinic for a transformative session with Awakening Fertility founder Fiona Boulton, here.
Leave your questions and comments in the box below!