Digestive Health – Improve Gut Health (Digestion) and Improve Fertility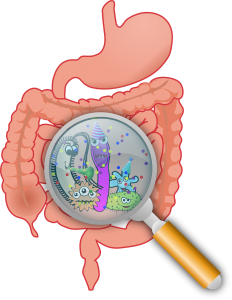 Are you suffering with digestive discomfort?
If you are suffering with digestive discomfort you:
Will feel bloated or tired after eating
May be constipated (excreting stools only once a day or less)
According to Traditional Chinese Medicine (TCM) all disease starts in the digestive system so we must keep it healthy, especially if you notice your body is out of balance in any way.
Stress takes blood away from the digestive system so it means your food may end up putrefying in your gut, in doing so your moods will be negatively impacted too. (You may have read some of the many books about this topic).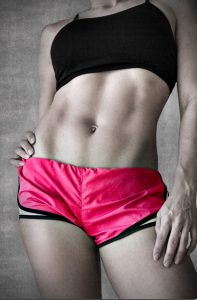 If you improve your digestive health you will have more energy, less discomfort and can improve your fertility.
5 ways to you get your bowels moving

:
Physical exercises – QiYoga and High Intensity Interval Training
Digestive supplements – During and after meals
Remove toxins – How to stop fungicides, pesticides and herbicides from damaging your gut flora
Constipation cleanses – Two types to try!
Hydrate and Increase Fibre 
QiYoga For Digestive Health
High Intensity Interval Training
Althougth HIIT is not ideal for fertility when you are TTC (trying to conceive) or pregnant, if you are constipated then you first need to sort your system out, then once you have regular bowel movements you can revert your focus back to fertility.
Below I have sourced a great introduction and explanation of the benefits of HIIT brought to you by Lifestyle Coach Renee Kacz. I recommend signing up to her Youtube channel (here) – it is so helpful!
(You will love Renee's Youtube Channel!!)
HIIT Routine for Constipation
You may already have your own HIIT you like to do, if now, try this – the movements will help with fertility and you don't need a gym!
(You will like this HIIT workout when you are travelling!)
Digestive Supplements
I stock some of the finest quality digestive supplements to soothe your digestive system – helping to eradicate sluggishness:
During a meal – Help your digestive system with digestive enzymes
After a meal – Enjoy some "fertility digestive cleanse mix" A hand-selected blend of Ayurvedic herbs that taste delicious, prevent sugar cravings and freshen your breath
Remove Toxins for Good Gut Health
The best way to avoid toxins being digested in your gut and destroying gut flora is to eat clean, meaning eat 100% organic. I know this is very difficult in this day and age, so when you ingest non-organic food, "stress less" and swallow a few activated coconut charcoal capsules.
Why Activated Coconut Charcoal?
Read my previous article here for all the information about how activated coconut -charcoal works
Where to buy activated coconut charcoal
Dosage
Take ONLY with the food you are eating that is not organic (take 2 capsules)
Added bonus – Whiten your teeth naturally!
You can also break open a capsule and put it on your toothbrush when you clean your teeth and tongue in the morning – it will draw out toxins (first thing in the morning) and brighten your teeth.
Constipation Cleanses
MSM Cleanse
MSM restores equilibrium to all systems of your body, removes scar tissue and calcification from the body as well as helps shrink fibroids, reduce inflammation and joint pain.
Take up to 10 tablespoons a day with lots of water. Started with your daily (normal) recommended amount of 2 tablespoons a day then build up to 10 for 10 days then drop down to 6 tablespoons or 3 "heaped" tablespoons and maintain that dosage. You might want to read this book by three doctors: https://www.amazon.co.uk/Miracle-MSM-Natural-Solution-Pain/dp/0425172651
I supply 500g bags of MSM for £67.00 or buy bulk for £50.00 each. (I only supply organic MSM sourced from trees – this is very rare and the best form you can get. It is vegan, 100% natural and Ancient Purity approved).
Coffee Clears Constipation – When TTC This Means Enemas
Preparing a Coffee Enema to make your bowel movements regular
There are a few different ways to prepare the coffee. This is what you do:
You will need an enema kit, which you can buy online, from some health food stores or a pharmacy.
Place 500ml of spring or filtered water in a stainless steel pan on the stove, add up to 3 tablespoons of ground organic coffee – not instant coffee. If you're starting out with coffee enemas, start with 1 tablespoon of coffee and increase to 3 tablespoons over time.
Bring the coffee mixture to the boil for 3 minutes.
Reduce to a simmer for a further 12 minutes.
Remove from the stove and strain the coffee.
Add 500ml of room temperature spring or filtered water to the strained coffee mixture. Over time this can be increased to about 750ml, so you take in a total of about 1 litre in the enema.
Once the mixture is about body temperature, fill the enema bag and let the fun begin! If the coffee solution is too hot it can burn you, too cold the enema will not be entirely effective.
Try to hold the coffee solution inside for about 15-30 minutes before releasing (Not everyone can do this at first, this is normal, so click here to overcome this problem).
Hydrate and Increase Fibre 
My personal favourite is eating:
A Paleo-based diet to keep me regular
60%+ raw
A fibre filled fertility smoothie after my morning fertility drink (of freshly squeezed lemon, clean water, 1 dessert spoon of ACV and MSM with fertility honey as an option)
Snacking on fibrous fruits, especially prunes and vegetables, especially greens!
Note –
You can eat carrots but don't juice them, when TTC your body is sensitive to ingesting too many carrots so only consume what you can enjoyably eat in one sitting. (Same applies with peas).
Remember to avoid –
Corn because your body can't digest it
Processed foods, they clog you up!

About the author:
Fiona Boulton is a Fertility Specialist
(An expert in her field since 2007) and leader in Fertility Mind Mastery, Fertility Meditation, Fertility Yoga and Fertility Coaching –
helping people take back control of their fertility, faster.
Fiona is the founder of Awakening Fertility – Harley Street (Harley Street Fertility Clinic), London; Concept Fertility Putney; Chichester, West Sussex and Perth, Australia
Huffington Post Fertility Writer
Fertility Coach
Fertility Support Group Co-ordinator for Harley Street Fertility Clinic and Infertility Network UK
Nutrition Counsellor
Public Speaker
Author
Blogger
QiYoga® Founder
Fertility Yoga Teacher Trainer (RYS 200)
Fertile Lifestyle Motivator
Fertility Support Group Facilitator
Fertility Practitioner Training Co-ordinator
Through Fiona's "transformation guaranteed" Fertile Lifestyle courses, Fiona helps navigate major transitions to detox your mind and body to help you effectively 'think yourself fertile'; to change the map your mind has of your body and therefore change your physiology by clearing mental and emotional blockages to having your baby. Fiona's work focuses on you taking back control by changing the internal and external environment of your cells so you can improve chances of fertility success.

Book your fertility consultation from the comfort of your home or come to the Harley Street Fertility Clinic for a transformative session with Awakening Fertility founder Fiona Boulton, here.
Leave your questions and comments in the box below!