Why Fertility Yoga Classes?
Fertility Yoga helps to speed up the process of natural fertility success as well as boost your chances of IVF success by preparing your mind and your body "baby ready" for parenthood.
Fertility yoga is gentle, suitable for all levels of fitness and is highly effective.
"Fiona's yoga classes leave you feeling lighter, brighter and more empowered on your fertility journey"

– Lucy, H. London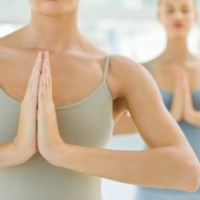 Benefits of Fiona's Fertility Yoga
Balances your central nervous system so you can manage stress better and improve sleep, restoration and healing
Soothes and restores health to your digestive system (enabling you to absorb all the nutrients you consume, intern it will boost your energy)
Increases blood flow to the whole of your reproductive system so you can release stagnant energy or blockages within your sex organs
Boosts your mood, increases self worth, self esteem and feelings of joy
Helps to prepare your womb (with fresh oxygenated blood flow) and therefore minimise risk of miscarriage
Fiona has been a fertility specialist since 2007 helping couples (who have been told the odds are against them) give birth to happy, healthy babies worldwide
What other's are saying about the QiYoga for Fertility Classes
"Fiona has a fun, magical and joyful energy that restores, revives and rejuvenates your soul, which is just what you need when you feel hopeless and desperate and out of control of your circumstances on the TTC/Fertility journey – as I did.  
After yoga, the calm and gentle mediations relax and repair you, and if you fear that stress is a factor in why you're not yet pregnant, this class is just what is required."
– Sarah, P. Wandsworth
"Both Fiona's QiYoga and meditations are truly amazing. You leave each class feeling uplifted and empowered (something I never thought I would feel on my fertility journey)."
– Rebecca, F. Pimlico
"I love QiYoga for fertility! It's surprisingly easy but makes such a positive change, I left feeling I had done something for myself, on all levels and I feel like I am able to take back some control of my fertility journey every time I go."
– Judy, C. Streatham, London
"I love the healing effect it has. I can go to class so stressed and uptight, but I leave feeling relaxed and re-empowered. I can feel freer and lighter in my abdomen, which I love."
-Mary, C. Chelsea
"Fiona opens my heart and my hips to help me feel so much joy. Her classes really are a true source of happiness for me which I need on this emotional fertility journey."
– Sue J, Clapham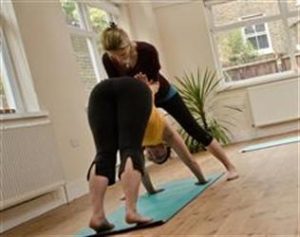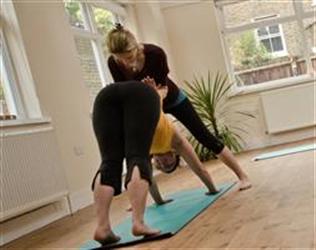 Private 1-to-1 Yoga Classes 
Harley Street – Harley St Fertility Clinic: 134 Harley St W1G 7JY

£125.00 per 60 minute personalised fertility yoga class when 10 yoga classes are pre-purchased.
£155.00 per 60 minute single yoga class pay-as-you-go
Available Monday, Wednesday, Friday 12:00pm – 3:00pm

South West London – Putney/Wandsworth border, Point Pleasant SW18 1GG

£125.00 per 60 minute personalised fertility yoga class when 5 classes are pre-purchased, get 2 classes free. (Or get 12 sessions for price of 10)
£125.00 per 60 minute single yoga class pay-as-you-go
Available Tuesday and Thursday 7:00am – 7:30pm

Home Visit – London, Chichester, Singleton, Midhurst, Petersfield, etc.

£155.00 per 60 minute personalised session when 5 sessions are pre-purchased, get 2 classes free.
£155.00 per 60 minute single yoga class pay-as-you-go
Sometimes additional call-out charges apply but these are pre-arranged prior to visit.
Available Friday 7:00am – 7:30pm in West Sussex
Available Monday – Thursday in London (various times)
Fertility Yoga & Meditation Courses
Complete your Fertility Yoga Class with a deeply healing fertility meditation for just £25.00 for 20 minutes
Who's Fertility Yoga for?
Fertility Yoga is of you if you're looking to achieve ANY

one

of the following:
Become pregnant
Balance hormones (through Hormone Yoga Therapy)
Enjoy connecting to your feminine energy and developing your intuition
Improve digestive disorders or discomfort
Manage stress through gentle yet powerful movements
Enhance your wellbeing and love of life
Improve happiness, joy, fitness, flexibility and balance
Improve chances of natural fertility success
Improve chances of assisted fertility success (IVF/ICSI/IUI)
Why Fertility Yoga Teacher Fiona Kacz-Boulton
Fiona Kacz-Boulton has been teaching yoga full time since 2003. Fiona teaches people how to become yoga teachers through her QiYoga Teacher Training School and has been specialising in fertility yoga since 2007.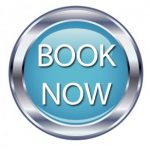 All yoga classes require pre-arranged bookings to secure your place.
How to prepare for a fertility yoga class
Purchase your session, eg – 10 class pass (valid for 3 months) – £125.00 per class – £1,250.00*
Have your own industry standard yoga mat (this is not a camping mat, or Fiona can bring one for you if pre-arranged
Wear comfortable, stretchy clothing (no shoes or socks) and wear a smile!
*Cheaper for newsletter subscribers based on gift vouchers received throughout the year
Benefits of QiYoga for Fertility Classes
Get your mind and body fertility fit. 

Learn to breathe, manage stress, lengthen, strengthen and feel balanced your hormonally, emotionally, mentally and physically
Note: For Best Results
Combine fertility yoga classes with Fiona's Fertile Lifestyle Programme and increase your chances of faster fertility success. This is guaranteed to transform your fertility.

How to be Fit for Fertility
As an active yoga teacher since 2003, Fiona has seen first hand the value of how QiYoga can improve fitness, still the mind, heal the body and help lay the vital foundation for fertility success.
Fiona offers Fertility Yoga in the form of QiYoga via her world-renowned DVD as well as Private Fertility Yoga Classes and Videos on Demand.
The QiYoga: For Fertility DVD has phenomenally high success rates
The movements help to nourish the reproductive system, ease the digestive system and release "feel good" hormones upon completion of the relaxation at the end.  Just 40 minutes of gentle movement, breathing and relaxation is all it takes to enhance blood flow and life force energy to the whole sacral band.  Moreover you can get this video instantly downloaded onto all your devices here.
When you purchase all three videos, you will receive a complimentary 60 minute Skype/phone fertility consultation offering you specific tips and techniques to facilitate your fertility success
---
Fertility Yoga Teacher Training Course

For people wanting to be a Fertility Yoga Instructor
Awakening Fertility's comprehensive Fertility Yoga Teacher Training Course is divided into two streams over 5 weekends. 
Duration
6 month fertility yoga teacher qualification

Learn one-on-one privately in your own time 
Fertility Yoga Teacher Training Course 
For existing yoga teachers only
Supplement your skills with a new understanding of:
How energy flows
How to clear blocked energy and how to cultivate it
How to integrate all aspects of the energy field into a state of harmony
How to help the systems of the body function via specific yoga sequences:

Cardiovascular system
Immune system
Digestive system
Central Nervous System
Endocrine System – because hormonal issues are on the rise and contributing to

Uncontrollable weight gain
Mood imbalances
Sleep difficulties
Thyroid problems and
Fatigue

How to bring Qi (life force energy) into people's physiology to enhance 

fertility

How to teach 

fertility

 yoga postures (asanas), understanding why and how they work so effectively
How to teach 

fertility

 yoga to people with different fitness and flexibility levels
How to teach 

fertility

 yoga to people with different ailments (HBP/LBP, injuries, etc.)
Responsibilities and Demands of a Fertility Yoga Teacher
Training in Fertility Yoga needs to be comprehensive.
When people attend fertility yoga classes they expect results – big results! Fast results!
For this reason Fertility Yoga is not something to take lightly and it is not your standard yoga CPD course.
To help your future students (clients) get fertility results you need to understand how to heal. Yoga in itself is a lifestyle designed to heal and re-harmonise the body but the physical postures (asanas) are only 1/8 of "yoga." This is exemplified in the 8 Limbs of Yoga.

The 8 Limbs of Yoga
The 8 Limbs of Yoga clearly spells out the complete meaning of yoga: to achieve bliss through deep integration. By embracing all aspects of yoga you will achieve better (faster) results with your fertility clients. This is essential because your fertility clients will be under extreme time pressures which they will put onto you. With comprehensive training you will graduate as a confident and competent teacher who will understand how to re-harmonise, re-balance, de-stress and turn fertility back on through the combination of two healing arts: yoga of India "Hatha" and "Luna" as well as Yoga of the Orient – the medical and meditative form of martial arts called "Qi gong."
Don't just do any Fertility Yoga Course
Choose Awakening Fertility's "QiYoga for Fertility" Teacher Training Course because that is proven to work. You will graduate with an understanding of the scientific and spiritual wisdom and more importantly you can be confident in your teaching skills and abilities.

Taking enrolments now
For April Start (2018)

For September Start (2018)
This is a 6 day 

course

 over 5 weekends

£2,950.00 if paid via part payment over 5 months
Early Bird Price (by 6th February 2018) £2,500.00
Pre-Requisite Healing Course for Fertility Yoga Teacher Training
February: Qi Energy Healing Course – Level 1
Saturday 9:30am – 3:30pm (includes 1 hour lunch break)
Bring your own lunch. Cost £350.00 – full details here
March: Qi Energy Healing Course – Level 2
Saturday 9:30am – 3:30pm (includes 1 hour lunch break)
Bring your own lunch. Cost £350.00 – full details here
April: Fertility Bootcamp and QiYoga Teacher Training
Saturday 10:00am – 6:30pm
Bring your own lunch. Cost £966.00 – covering all content listed above, as well as manual and three eBooks
May: Qi Energy Healing Retreat – Level 3
Saturday 10:00am – Sunday 4:00pm
Full board and meals provided. Cost £899.00 – full details here
June: QiYoga Teacher Training Theoretical and Practical Exams
Saturday morning Healing practical exam. Cost £285.00
Saturday afternoon 1:00- 6:30pm.
1:00 – 2:00pm – Theory Exam
2:00 – 2:15pm – Mark exam and discuss answers
2:30 – 3:30 – Person A performs practical exam
3:30 – 3:45pm – Group feedback
3:45 – 4:45pm – Person B performs practical exam
4:45 – 5:00pm – Group feedback
5:00 – 6:00pm – Person C performs practical exam
6:00 – 6:15pm – Group feedback
Graduation dinner at 7:00pm

Ready to Become a Confident Fertility Yoga Teacher?
Step 1:
Email your credentials, letting us know your background in yoga and why you want to do the course, 
here
Step 2:
Once you have been accepted onto the course, pay your £450.00 deposit (follow instructions on received invoice) to secure your place – spaces limited. The £450.00 covers your Level 1 Healing Course (£350.00) and £100.00 non-refundable deposit for your place on the QiYoga Teacher Training Course. As you can see places are limited to 3 teachers per course so you get 1-to-1 attention and are guaranteed to graduate competently and confidently.
Option to Study in Your Own Time and Own Pace
You can complete this course via correspondence in your own time at your own pace. Most people complete within 6 months but the shortest time was 2 months by someone who was not working and could focus solely on the course.

Individual Pre-requisite Healing Course Prices are listed here
Individual Fertility Yoga Teacher Training Course Price is £2,250.00
Fertility Specialist Training Summarised
In a nutshell 
fertility
 yoga works when given the best training. This course has been running since 2006.
Did you know fertility yoga is much more effective when you can include other aspects of yoga, not just asanas (yoga postures)? Furthermore, your clients will require more than yoga for faster fertility success.
Yoga, to people in the West is considered to be postures (stretches) however this is only 1/8 of what yoga is about.  Yoga means union – coming into whole – and the physical postures are a tool to bring the physical, mental and emotional aspects of self into balance.
Other aspects of yoga include meditation, mind mastery techniques and more.You will learn these techniques so you can offer in-depth transformation to help "turn fertility on" for your fertility clients.
Balance = harmony and in harmony you create 

fertility
Additional Training
Fertility Specialist Coaching Course 
For therapists with a base skill that can be used to facilitate a 
fertility

 business

Fertility Coaching is the perfect combination to complete your fertility yoga skill set – equipping you with the expertise to run your own fertility yoga business.

The Fertility Specialist Coaching Course runs in May and June 2017.
For more information about this course, click here