Evening Primrose Oil For Fertility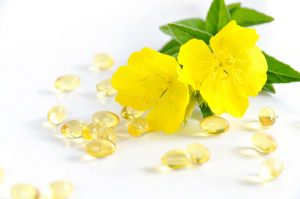 Benefits for Taking Evening Primrose Oil
This is a special plant influenced by the moon that has an affinity to women's fertility.
Evening Primrose Oil (EPO) has been used for hundreds of years because it is renowned not only for its fertility benefits but as a "cure all". EPO's reputation is namely due to its high content of the omega-6 essential fatty acids, Linoleic Acid and Gamma Linolenic Acid which is cold pressed from the seeds of the plant – which, by the way got it's name because it looks similar to English Primrose and is no relation to the primrose flower at all.
Many studies have shown that EPO can help with:
General wellbeing (easing various burdens such as acne through to rheumatoid arthritis)
Reducing PMS symptoms (including bloating, breast tenderness, depression, fluid retention, foggy headedness, headaches, irritability and mood swings prior to their menstrual cycle).
Increasing cervical mucus (while reducing inflammation) – which is necessary for carrying and sustaining the sperm through to the cervix
Improving cellular growth and regulating hormones via Linoleic Acid
Toning the uterine muscles which prepares the body for pregnancy
How Evening Primrose Oil Could Help Your Fertility
EPO can improve the quality of cervical mucus – or, in other words it can make the cervical mucus more fertile. When you ovulate the body creates extra cervical mucus to help sustain the life of the sperm and this cervical mucus helps the sperm travel more freely and easily to the cervix. This "egg white" cervical mucus (as it is often referred to because of its elasticity and similar texture to "egg whites") is also a good marker to indicate when you are ovulating.
PreSeed Lubricant

PreSeed is the name of a lubricant that also has the same function as the cervical mucus and it may be something you want to start using.
Cautions for Taking Evening Primrose Oil
EPO is NOT suggested for use after ovulation when a woman is trying to conceive. If you are pregnant, or think you may be pregnant, stop taking EPO because the uterus may begin to contract which may lead to pre-term labour or miscarriage. Midwives use EPO to 'ripen' the cervix to help induce labour in the third trimester.
Suggested Dosage of Evening Primrose Oil
General usage is 500mg – 1000 mg one to two times a day (beginning at the lowest suggested dosage).
While Actively Trying to Conceive
General usage is 1500 – 3000 mg one to two times daily, from day 1 – 14 in the cycle. Evening Primrose Oil may cause uterine contractions in pregnancy which is why it may be best to not continue it past ovulation (in case of pregnancy) while actively trying to conceive. Post ovulation it may be best to switch to cod liver oil or another omega-3 oil.
Not Actively Trying to Conceive
For those who desire to take EPO to help reduce PMS, for menstrual cramps or general hormone balance support and are NOT actively trying to conceive, EPO may be taken all month long.
Sources:
Botanical Medicine for Women's Health; Aviva Romm. Churchill Livingstone, 2010
http://www.babyhopes.com/articles/epo.html
Wikipedia.org/wiki/prostaglandin
Wise Woman Herbal for the Childbearing Year; Susun S. Weed. Ash Tree Publishing, 1986
Women's Encyclopedia of Natural Medicine; Tori Hudson, ND. McGraw Hill Publishing, 2008

About the author:
Fiona Boulton is a Fertility Activator and Fertility Healer
(An expert in her field since 2007)
Helping people take back control of their fertility, faster.
Fiona is accessible for online sessions, here
Huffington Post Fertility Writer
Fertility Coach
Fertility Support Group Co-ordinator for Harley Street Fertility Clinic and Infertility Network UK
Nutrition Counsellor
Public Speaker
Author
Blogger
QiYoga® Founder
Fertility Yoga Teacher Trainer (RYS 200)
Fertile Lifestyle Motivator
Fertility Support Group Facilitator, London
Fertility Practitioner Training Co-ordinator
Through Fiona's "transformation guaranteed" Fertile Lifestyle Course Fiona helps navigate major transitions to detox your mind and body to help you effectively 'think yourself fertile'; to change the map your mind has of your body and therefore change your physiology by clearing mental and emotional blockages to having your baby. Fiona's work focuses on you taking back control by changing the internal and external environment of your cells so you can improve chances of fertility success.

Book your fertility consultation from the comfort of your home or come to the Harley Street Fertility Clinic for a transformative session with Awakening Fertility founder Fiona Boulton, here.
Leave your questions and comments in the box below!